Regardless of where you are in your career, it can be challenging to know how to work from home effectively. Whether you've taken on an intentionally virtual role, or your traditional office job became remote because of Covid-19, you're likely working from home right now. Of course, working from home looks different for everyone, and the challenges of remote work are many and varied. If you have children or roommates, you may struggle to find a quiet space to take meetings. If you live in a tiny studio apartment, you might not have space for a desk and a comfortable chair. Even if you have the perfect work from home setup, you're probably experiencing some growing pains as you adjust to life out of the office.
For many professionals, getting used to working from home means learning how to be productive and self-motivated all over again. Getting your work done might seem a lot easier in an office surrounded by busy coworkers with a hard 5 pm deadline.
1. Create a neat office space
If you're not sure how to work from home effectively, creating a neat space to work is a great first step. You don't have to have a room designated as an office to do this. In fact, you don't necessarily even have to have a desk. Of course, if you can recreate your office space, with a desk and external monitor, that's excellent. Many companies have either provided stipends for furnishing your home office, or have sent equipment not being used in the real office. Whether or not you've got all the nice-to-haves at home, focus on creating a space that encourages productivity.
While you might be inclined to work from bed or from the sofa, it's generally a good idea to set up a workspace that isn't where you spend your leisure time. If you don't have room for a desk, set up space at your kitchen counter, or dining table. Make sure you have everything you need within reach in this space. Consider the proximity of outlets, noise level, and distraction level. If you're working in a public space in your home, you may also need to consider making your workstation mobile, so you can pack it up at the end of the day to make room for dinner.
One last important element of a work from home station is a clear, uncluttered background. If you're going to be in video meetings throughout the day, you don't want your laundry drying in the background, or your lunch dishes sitting on the counter. A blank wall is best, but a neat room works well too. Always do a preview of your video before joining meetings – you don't want to end up in an embarrassing meeting situation!
2. Dress for success
If you ask many of today's top remote professionals for their advice on how to work from home effectively, they swear by keeping their routine as normal as possible. That includes getting dressed rather than wearing pajamas all day. You don't necessarily have to dress up in business attire all the time, but getting dressed can help you get into the mindset for work. It creates a distinction in your day between work and leisure time, and ensures you're ready to go and looking professional for meetings with clients or coworkers. For most organizations, more casual attire will be just fine for zoom meetings, even if you normally wear businesswear to the office. However, if you're not sure what's appropriate, make sure to check with your manager. You definitely don't want to show up underdressed!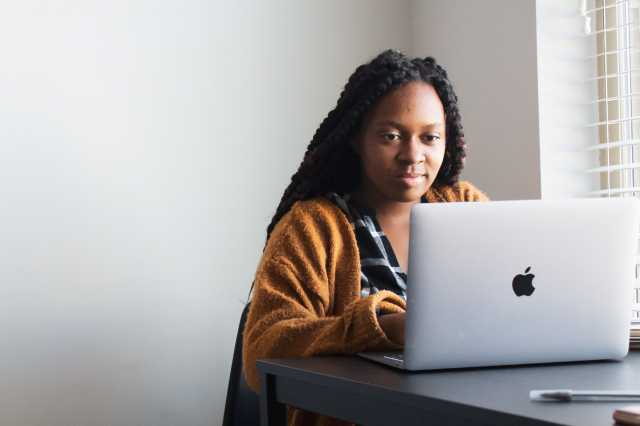 3. Schedule screen breaks
Working from home can be exhausting and all-consuming. Scheduling breaks into your day or into your week is an excellent way to maintain focus. Take a few minutes to re-energize yourself. Set aside some time to take a walk around the block, or grab an afternoon coffee. Try not to be looking at your screen during this time. Remember that when you're in an office, you take breaks to chat with teammates, and your meetings are face-to-face rather than in front of a monitor. And, you probably step out for lunch, rather than eating three meals a day in front of your computer.
4. Stay connected
It's easy to feel like you're alone in the work-from-home struggle. Staying connected with your teammates during the day is a great way to feel more positive about your role and organization. Of course, zoom happy hours and slack threads can't completely make up for personal interactions. But even these small virtual ways of connecting are better than sitting alone, grinding through hours of work without any human interaction.
5. Separate personal time
Last but certainly not least, take care to separate your work time from your personal life. This is one of the most important tips on how to work from home effectively. You won't do your best work if you're online 15 hours a day. It might not always be possible to take a full lunch period away from your desk, but try to be intentional about your personal time. Try setting a hard stop for yourself in the evening, so you don't end up working into dinner every day. If you're struggling with this, start by scheduling a call with a friend or family member at a reasonable time once or twice a week. That way, you'll be forced to log off and do something you enjoy.
If you feel you have the flexibility and the vacation time, consider taking a day off every few months to relax and reset. Don't feel like you need to schedule all of your appointments into this day, or to go on a big vacation. Taking time for yourself is critical if you want to be successful working from home in the long term. Some people might feel pressured to work into their free time. Keep in mind that this pressure might be self-inflicted. If your coworkers are consistently asking things of you outside of the workday, put your calendar to use. Block off your calendar in the evenings, and set an out-of-office reply on weekends. Remember, your free time is still yours, even if your office is now a closet in your parents' house.
Discover our virtual internship program here.
Photos:
Working from home, by Mikey Harris on Unsplash
Woman typing on a macbook, by Daniel Thomas on Unsplash