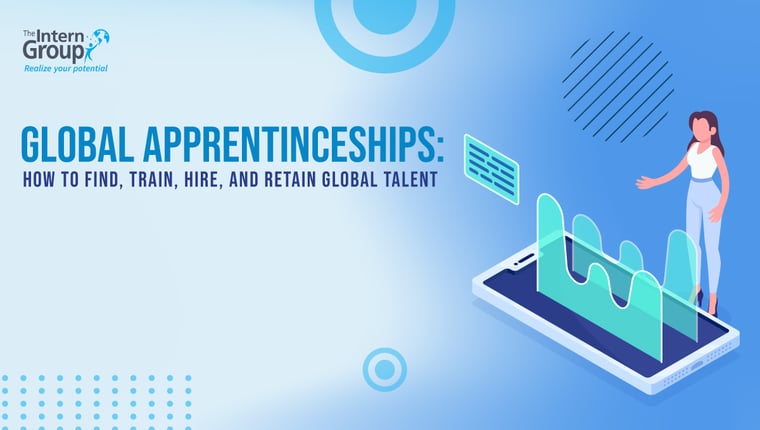 One of the biggest challenges companies in all sectors face today is how to find, and retain global talent. The most successful organizations are those that take an active role in ensuring the diversity and breadth of their workforce through a remote apprenticeship program. However, that is, of course, easier said than done. Talent is everywhere, in every corner of the globe, but career development and opportunities aren't.
The impact of remote work cannot be overstated. While the virtual workforce was on the rise before the Covid-19 pandemic due in part to rapid technological innovation, the pandemic has accelerated the transformation in how and where talent works.
Our White Paper with MlT shows that organizations must seek out diverse talent from around the world, in particular, talent from underrepresented areas. Today's increasingly remote workforce offers companies increased access to emerging talent at scale and new opportunities in terms of how and where they recruit.
That's a unique and valuable position for most companies, but only if they know how to leverage it. Our research shows that when it comes to the race for global talent, recruiting is the biggest challenge companies face, followed by retaining talent. Now, there's certainly steep competition in traditional hiring pools. But that's a barrier that can be easily overcome by honing in on talent from non-traditional sources. That's where global remote apprenticeships come in!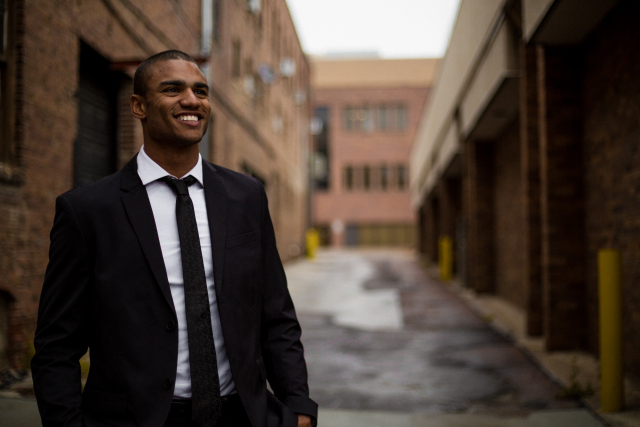 The race for global talent
The pressure is on for employers and HR professionals around the globe to figure out how to hire talent, find talent, and, most importantly, retain talent. High hiring costs globally mean that employee turnover can be extremely pricey. Between direct costs for conducting exit interviews, advertising for new hires, and conducting a new interview and onboarding process, it's better to keep current employees on board.
And of course, the financial cost isn't the only area of loss. Companies with high turnover rates also lose organizational knowledge, productivity, and even workforce morale. Today's top employers are struggling with how to keep young, diverse talent on the team, even with competitive pay and benefits.
The new generation of emerging talent has a different set of desires and skills, and the employers that learn and capitalize on those most quickly will ultimately come out on top of the race for global talent. And that starts with diversifying the pool of applicants they pull from. The best way to do this in a scalable way is to hire globally and to hire remotely.
Now, hiring talent in developing countries or other parts of the world where you don't have an office may seem like a stretch. After all, there may be legal barriers, communication challenges, and certain necessary technological advancements. Companies may even be concerned about building and maintaining a company culture in a remote work environment, or about cultural clashes between employees from different parts of the world.
However, the potential challenges are far outweighed by the benefits of attracting and keeping global talent. The impact of a diverse employee and candidate pool is immense. It benefits both a company's bottom line and its culture, morale, and outlook. Plus, it's a chance for any company to be a part of the movement to close the gap between emerging talent and professional opportunities.
In the very near future, it will be normal for companies of all sizes to hire the very best global talent they can find, regardless of nationality, geographic location, or academic background. And remote apprenticeships are making that happen.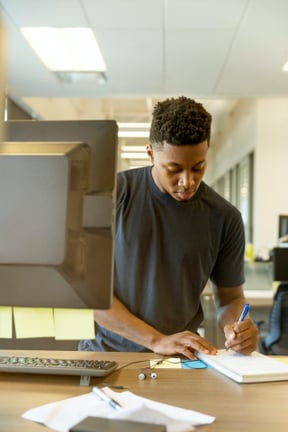 So, what is a remote apprenticeship?
A remote apprenticeship is the easiest and most impactful way to find and employ global talent. Global apprenticeship programs pair young professionals from around the developing world with organizations in their field to complete fully remote internships. These hands-on placements are skills-based and focused on preparing diverse talent for a future career at their host organization.
Remote internships aren't always paid, though, of course, the goal for both the company and the intern is for the placement to evolve into full-time employment.
Finding a diverse talent pool from which to source interns may be challenging for some employers, even if they expand beyond their local universities. That's why The Intern Group is partnering with some of the world's most prestigious universities on a program that will create a steady pipeline of emerging talent from around the world straight to the teams of companies that want to succeed in a world that is increasingly global and remote.
Case Study: The Intern Group and Massachusetts Institute of Technology
In partnership with the Massachusetts Institute of Technology, The Intern Group's Global Apprenticeship Talent Program connects young professionals with remote internships, with the possibility of full-time remote employment after the program.
The apprenticeships are geared toward helping employers and universities close the gap between global talent and top-tier jobs, promoting both professional excellence and diversity. The program offers recent graduates and undergraduates in their final year of study the opportunity to gain hands-on experience with an organization based anywhere in the world.
Through the program, we'll look to create a consistent pipeline of top talent from around the globe, with a special focus on the developing world.
In collaboration with MIT, we reviewed applications from an incredibly diverse group of candidates who hailed from as far and wide as Uganda, Peru, Palestine, Turkey, and everywhere in between. We sought candidates with a high level of English fluency who were also curious, adaptable, entrepreneurial, and resourceful. We prioritized strong communication and interpersonal skills, problem-solving abilities, and work ethic.
Successful candidates receive exclusive professional training and certification from MIT Open Learning and are placed with top-tier, remote-first companies headquartered in OECD countries (Organization for Economic Co-operation and Development) including the United States, the United Kingdom, Australia, Canada, and New Zealand.
Targeting partner companies
Of course, in a program like this, the quality of our partner organizations is just as important as the caliber of the candidates we select. To ensure that our interns have the very best professional experience, we have a rigorous set of criteria against which we compare potential corporate partners.
We're looking primarily to place interns with larger multinational companies that have at least 100 employees, or venture-funded technology startups. This is in part to ensure that interns are guaranteed stability in their placements, and further into their careers if offered full-time roles. Of course, remote flexibility is essential, and we prioritize remote-first or remote-friendly teams.
As the long-term goal of the program is to match top talent from emerging economies with opportunities for permanent employment, we're also looking specifically for companies that are interested in hiring top-quality interns at the end of the program, and have roles available in fields including finance, digital marketing, data analysis, and communications, among others.
A global presence and workplace culture, and a demonstrated commitment to diversity, equity, and inclusion are crucial, as is alignment with our purpose: helping people realize their potential and closing the gap between talent and opportunities.
If your organization matches these criteria and you're interested in how you can access global talent, read more and reach out to us here.
How can companies get involved in our Global Apprenticeship program?
Our program offers companies a leg up when it comes to hiring talent. The competition can be tough, particularly for small or midsize organizations. We know that companies need support as they adjust to today's virtual workforce, and we know that support is needed both for identifying and training talent, but for retaining and ultimately attracting talent.
We're focused on creating that global talent pipeline, with a special focus on developing nations. And we're looking for companies that are ready to take the next step in becoming global leaders in their field.
Our program has several key elements. Of course, we source and place several remote interns per company. These candidates are thoroughly vetted and chosen from an immense pool of diverse talent. They come from the best public and private universities from around the developing world, and are hand-selected as well as trained by MIT, one of the most prestigious institutions in the United States. Each intern completes a curriculum designed by MIT and delivered by university professors. These training IS focused on transferable skills in entrepreneurial problem solving, teamwork, and communication. And of course, all within dynamic, international settings.
As an added bonus, managers at an organization hosting remote interns also have access to this resource.
The Global Apprenticeship Program is reliable, scientific, and consistent. It provides companies with "the first bite at the apple" when it comes to accessing and hiring global talent. Only the highest-performing final year students and recent graduates make up the talent pool, from countries and backgrounds that may otherwise be inaccessible to companies based in the U.S., the U.K, or elsewhere.
Finally, the program eliminates the number one barrier to hiring remote talent in developing countries: visas. We have a partnership with Let's Deel, an international payroll solutions company, that allows us to deal with any concerns regarding income tax, HR, legal, or compliance concerns in a single stroke.
If you'd like to be added to our waiting list for the program, please contact Co-Founder & Head of Impact at The Intern Group, Johanna Molina: johanna@theinterngroup.com.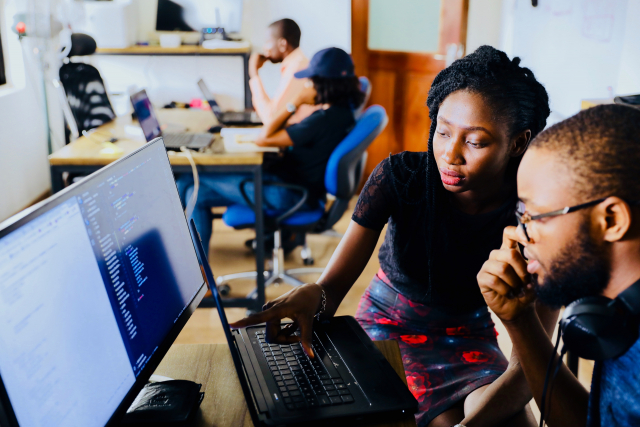 The benefits of apprenticeships for employers
The benefits of remote apprenticeships for employers and professionals alike are endless. A steady pipeline of diverse, talented employees from around the world can truly change the way a team, a single company, and even an entire industry operates.
A truly diverse workforce values talent regardless of geographic location or nationality. Companies that ignore the immense talent outside their backyards are poised for failure in the long term. Hiring a diverse workforce is known to increase creativity by bringing together different perspectives, backgrounds, and ways of thinking. A broader array of skills on a team leads to higher overall productivity and lower skills gaps across an organization.
These are a few of the major benefits that remote apprenticeships can have for employers in particular:
Access more diverse talent
Recruiting only from the same set of local universities will result in the same talent pool year after year. And, more likely than not, that talent pool will lack the diversity required for corporate success today. By utilizing remote apprenticeships, a company can reach potential interns from a wider range of ethnic backgrounds, a wider range of socio-economic backgrounds, and, of course, a wider geographic scope.
Apprenticeship programs also allow employers to consider talent outside the traditional model – for example young professionals who are still in their final year of university, those that live in rural parts of developing nations, or those looking to make a pivot in their careers.
Keep in mind that accessing, hiring, and retaining diverse talent is truly a lifecycle. A company that starts by bringing on diverse emerging talent for remote internships will have an easier time hiring and onboarding that person, and bringing them into the fold of the organization. Companies that have a diverse overall workforce will see increased retention of that diverse emerging talent. And of course, a diverse global workforce is incredibly attractive to young generations of workers, making it easier for a company to then start the cycle again by attracting a diverse applicant pool.
Prioritize digital fluency
Remote apprenticeships are an excellent avenue by which organizations can bridge their internal skills gap. Top emerging talent already has many of the skills required for success in tomorrow's economy. The top area of course is digital fluency.
For many organizations, a digital skills gap is what's really holding them back from finding talent, and from retaining talent. Companies across sectors should be prioritizing their technological capabilities, and honing in on how technology can secure their stability and success when it comes to a diverse workforce.
Younger generations of talent are looking for tech-savvy companies, in part because digital fluency allows an organization to embrace more flexible and remote work. With the right technology, companies can hire and onboard talent remotely, build company culture, and beat out the competition when it comes to global recognition and access.
However, emerging talent also has high expectations for how technology can be used to better their overall experience at a company. Organizations that learn how to leverage technology to enable virtual teams will find their employees report better work-life balances, higher productivity, and an overall more positive relationship with their jobs. And of course, utilizing technology to make work more fun, particularly in a remote setting, is crucial. Whether a team implements remote monthly happy hours or virtual scavenger hunts and training. An investment in digital fluency goes a long way toward retaining diverse talent. And the emerging talent accessible through remote apprenticeships is an excellent first step in that investment.
Defeat geographic barriers
It used to be that a company could only interview and hire people who could physically show up in an office every day. Communication was only possible when groups could gather together in the same room, and it was commonly understood that remote work put up barriers to successful teams. In fact, many industries frowned on remote work and considered remote workers to be a burden. Along with those outdated ideas was the idea that a homogenous team was a cohesive and efficient team.
Today, we know that nothing could be further from the truth. The immense increase in the demand for and acceptance of remote work has changed everything about the way employers and employees exist together. Remote-friendly and remote-first companies suddenly find that they have much better access to diverse talent than their competitors who refuse to take on remote workers. Top talent from developing countries now know they can take their skills and ambitions anywhere in the world, as an increasing number of organizations prioritize diverse perspectives.
Geographic barriers used to prevent top talent and eager employers from connecting. This focus on location didn't benefit anyone, and may even have held certain industries and companies back from potential advancements. After all, the benefits of diverse teams, full of talented people with different expertise and perspectives, cannot be denied.
Remote apprenticeships are not only enabling both interns and employers to overcome geographic barriers, but they're also helping to establish that critically important pipeline bridging the opportunity gap for professionals with exceptional talent, regardless of where they're located in the world.
Improve employee retention
If you ask any employer in any industry, anywhere in the world today, they'll tell you retention is one of their key concerns. It's no secret that talented professionals, particularly those from younger generations, are on the move. And companies are scrambling to keep up, and to figure out what would attract that key talent to stay.
Employee retention is key when it comes to a successful company, not least because of the costs associated with high turnover. Short employee lifespans are a vicious cycle because every employee is impacted by those around them, even if they don't realize it, or interact daily. The constant entry and exit of employees hurt overall morale and make it difficult for even the most motivated organizations to maintain their company culture.
Now, interns are highly likely to accept a full-time role offered to them after their placement. It's common knowledge that an internship program is an easy way to "supercharge" your talent pipeline. Think of an apprenticeship as both an extended job interview and an onboarding process. By the end, you have a potential employee who knows your company, its processes, and values and has already made concrete contributions to an internal team. And, research from WayUp shows that an intern who is hired is 20% more likely to stay for at least a year than an employee hired outside of an internship program.
So, are you ready to ditch GPA requirements, target schools, and in-office mandates, and begin building a pipeline of top-tier talent from around the world?
The Intern Group is the perfect partner to help your organization do just that. Learn more here.
Photos:
Walking to the next location

, by

Tayor Grote

on Unsplash.

Untitled

, by LinkedIn Sales Solutions on Unsplash.