In the future, it will be commonplace for companies to hire talent from any corner of the globe to work remotely. That means that access to talent will be borderless: no matter where you grew up or went to school, you'll have access to the types of opportunities that used to only be available in major cities like New York or London.
Today, we're already starting to see that reality beginning to take place. And of course, before remote employment comes remote internships.
Due in part to the Covid-19 pandemic, and to the global shift towards a remote workforce, students and professionals in every corner of the globe are now considering remote internship placements. For many, these remote experiences are a new phenomenon. You might even be wondering, "are remote internships worth it?"
Now, the short answer to that question is "yes," and there's a wide range of reasons why.
While remote placements of course won't be identical to traditional in-person placements, that doesn't lessen their value. Remote interns won't have office experience, but will still develop valuable connections and skills. Perhaps the top difference is the importance of self-motivation. As a remote intern, you'll work closely with managers and teammates. However, your self-direction and time management skills will be crucial to your success.
It's likely that many aspects of your studies or work were disrupted by the global pandemic, but internship plans don't have to be canceled. There are many reasons to pursue virtual professional experience, particularly if you're hoping to enhance your CV before graduation or are looking to make a career change. Not only will a remote internship ensure you have the experience necessary to pursue your career goals, but it will also set you apart from the crowd, most of whom didn't intern during this unusual time.
The digital nomad experience
There are millions of digital nomads around the world today. These professionals hail from every country you can think of and have mastered the remote work lifestyle. Working from coffee shops, beach cafes, and Airbnbs in places like Paris, Bangkok, and Rio, they travel the world all while working and maintaining a steady income.
It's not hard to see why the number of digital nomads is on the rise. The immense flexibility and travel opportunities that come with that lifestyle are hard to pass up! That being said, it can be difficult to launch a nomadic career. Many people never do because they don't know where to start.
That's why our digital nomad remote internships are so popular: it's a chance to experience the nomad lifestyle with the support of a local team, all while interning virtually with a global company.
In the digital nomad program, we place interns in one of the dozens of different career fields and match them with a top-tier organization in their chosen industry. From there, interns truly live the global nomad lifestyle. They live like locals in a digital nomad hub like Bangkok or Medellin, interning remotely and getting to know a new city. And of course, our teams are there for support on everything from visas to airport transportation.
If you're thinking that you'd like to take advantage of the remote work offerings in today's workforce by becoming a digital nomad, this is an excellent place to start.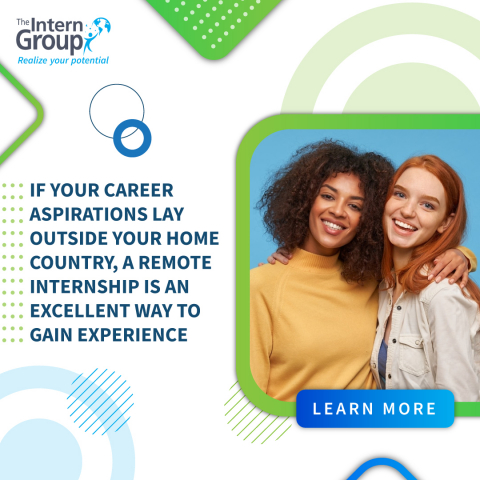 Top 6 reasons to apply for a virtual internship now:
1. Gain real-time experience
Whether you're a student hoping to supplement your studies with professional experience, or a professional hoping to gain entry into a new industry, there's nothing more important than relevant experience. A virtual internship provides real-time insight into the inner workings of an organization and industry. That experience is essential for success in a full-time role, whether remote or in an office. The real-time nature of virtual internships is also preferable to self-directed courses or freelance work. This is because interns have the benefit of immediate feedback from experts in their fields.
Of course, many of today's digital nomads do work as freelancers or independent contractors. But it can take a lot of work and experience to build up to that point. As an intern, the support and feedback of a company is critical.
2. Boost your network
One of the top benefits of an internship, whether remote or in-office, is the valuable professional network you develop. A strong network is one of the most important tools you'll have when it comes time to apply for a full-time job. From referrals and references to mentorship and advice, the connections you build during an internship are essential to future professional success. Remote interns collaborate closely with direct managers as well as cross-functional teams. They also have the opportunity to demonstrate their interests and skills to build relationships with experts.
Now, for those who are accepted into either our remote internship program or our digital nomad program, there's an added networking benefit. Each of our competitive programs brings together top talent from around the world, and their virtual nature means that cohorts of interns are even more diverse. Interns have the support of others doing the program, as well as access to our vast alumni network, which includes members from every corner of the globe, many of whom went on from an internship to work at a top international company. As part of our programs, our local teams organize a variety of remote networking and community-building opportunities.
3. Expand access
One of the most important impacts of virtual internships is the expanded access they provide. In short, these remote placements are helping to bridge the professional opportunity gap, particularly for students and young professionals in emerging economies. Remote internships for developing countries eliminate many of the barriers that would-be interns face, including visas and travel costs.
Remote internships are a great opportunity for everyone – no matter their nationality – to develop professional skills and then apply them in a real-world corporate setting. Think of it this way: if geography wasn't a barrier, where would you work? What country do you want to learn more about from a business perspective? What are your long-term goals? Remote internships might be just the right step to help you facilitate those dreams.
4. Prepare for remote work
Working remotely doesn't always come easy to everyone. Successful remote workers have to be extremely self-directed, have excellent time management skills, and be top communicators on all platforms. Virtual internships allow you to develop the skills and habits necessary for remote work, while guided by mentors and teammates. If you choose to apply for a coveted remote job in the future, whether at home or abroad, you'll be well prepared and well qualified!
5. Gain technological fluency
One of the most obvious differences between in-office internships and remote placements is the prevalence of technology. Virtual internships rely heavily on today's top technologies, including remote teamwork and organization software, as well as online meeting platforms. Digital fluency is essential for success in today's workforce, regardless of your chosen industry. The experience of interning remotely ensures your familiarity with popular technologies, and your ability to learn new digital skills quickly.
6. Develop a global perspective
If you're still wondering "are virtual internships worth it?" consider the flexibility of a remote placement. Many virtual internships offer placements with companies and teams in other parts of the world, allowing interns to develop international experience in their field. Part-time internships and flexible schedules mean that regardless of where you are in the world, you can intern with a top firm on the other side of the globe, from London to Shanghai and everywhere in between.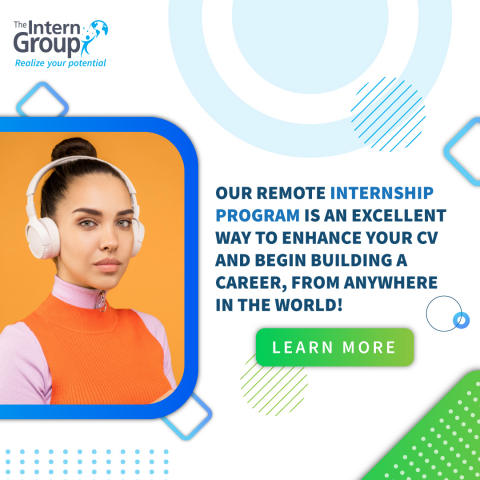 Remote Internship FAQs
Finding a remote internship might feel overwhelming. After all, there's a lot to consider. Which career field are you interested in? What are your goals for the placement? What hours are you available? Do you want to intern from your home or remotely from another country?
Fortunately, our programs are designed to take away most of the administrative and logistical stresses. Check out answers to a few of the most common questions we get asked about remote internships:
Who can do remote internships?
The beauty of remote internships is that they're accessible to everyone. The flexible nature of these placements means that just about anybody can take part. Remote interns can be full-time students or full-time caregivers. They can be high school students looking to get a headstart! Recent graduates can of course do remote internships, as can professionals who want to make a change in their career or pivot to a new industry.
How flexible are remote internships?
The answer to this question may depend on your particular internship, but the remote internships that are a part of our programs have maximum flexibility. Interns can choose whether to intern remotely from their home countries or from one of our digital nomad destinations. They can also choose the number of hours they have to dedicate to an internship per week, ranging from ten hours to 40 hours. Finally, interns can also select the duration of their internship. Read more about the logistics of remote internships here.
Are remote internships legit?
One of the realities of a world that is increasingly digital is that we all need to be aware of potential scams online. That's even true when it comes to virtual internships. As you're searching for a placement, keep your eye out for red flags, like companies looking for free labor, or companies that ask you to pay a fee to apply. When it comes to finding a great placement, start with your university or the career office at your school, or branch out to career fairs and networking events. Finally, you can utilize websites like LinkedIn, or apply to comprehensive programs like those The Intern Group offers.
Apply today
for a remote internship!