The digital nomad lifestyle is one of the most exciting ways to work and travel the world today. From New York City to Bangkok, digital nomads are everywhere. They move around the world, working from cafes, hotel lobbies, and Airbnbs. Not only do digital nomads get to visit top cities and destinations across the globe, they get to experience living like a local.
Today there are over 35 million digital nomads who live and work from the road. And that number is on the rise – digital nomads in the United States alone more than doubled in just three years! Of course, it's not hard to see why the global nomad lifestyle is so popular. Flexibility, travel opportunities, and great income potential – what more could you want?
If you've ever dreamed of drafting marketing content from a beach in Greece or writing code from a coffee shop in Tokyo, then the digital nomad lifestyle might be for you. However, becoming a digital nomad can be a challenge. There's a lot to consider when you're making the transition. From destinations and visas to remote jobs and learning new languages, it's important to be prepared. Read on to learn all you need to know about how to become a digital nomad.
What is a digital nomad?
Digital nomads make their living working online, usually entirely remotely, from different locations around the world. They hail from hundreds of countries around the globe, including the United States and the United Kingdom, Russia, Canada, and Germany, to name just a few of the most common home countries. The average age of a digital nomad is 32, but they span all age groups, from early twenties to late forties and everything in between.
Above all, digital nomads are location independent and rely heavily on technology for work. They usually determine their own schedule, and often work on a contract or freelance basis, though not always.
There are a few key elements that differentiate digital nomads from tourists and students studying abroad. First of all, digital nomads get to be immersed in different cities and cultures and experience a place from a local perspective. They often learn local languages in order to settle in more easily and rent apartments as opposed to hotel rooms or resorts.
A second important distinction is that digital nomads tend to be full-time professionals. Instead of taking classes at a local university, they're working, even if it's for themselves. Finally, careers for digital nomads usually don't require them to be in a particular place, and so they move around often. It's not uncommon for a digital nomad to split a year over several different locations, never staying anywhere too long.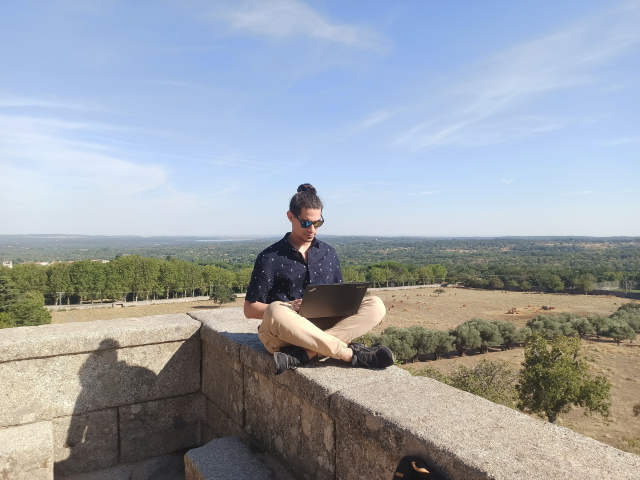 What is the digital nomad lifestyle?
The digital nomad style is a unique one. There aren't many career paths that allow you to stay on the move and only require WiFi. When you think of digital nomads, you probably imagine a young professional lounging on a beach with a laptop in one hand and a cold drink in the other. And that is often the case! But there's more to the lifestyle than meets the eye. If you're thinking you might want to become a digital nomad, there are several important things to know.
One common question about this lifestyle is "how much do digital nomads make?" This is of course an important question to consider before setting off on your own globe-trotting adventure. According to recent studies, digital nomads make an average of just over $120,000 per year. Keep in mind, however, that this number can vary greatly. It's highly dependent both on your chosen career field, and the type of work you perform.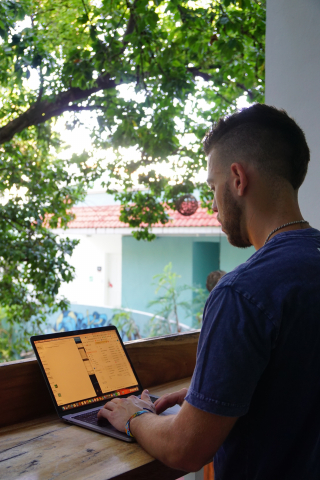 Not all digital nomads are freelancers or work for themselves. Some work on a contract basis, while some are even full-time employees of a company in their home country. These are important factors that play in, so keep them in mind when thinking about how much digital nomads make. Career paths also have an impact. As in most countries, computer engineers who are also digital nomads tend to make more than content writers who are digital nomads.
Another important aspect of the digital nomad lifestyle is where and how often they travel. According to Nomad List, (which, by the way, is a great resource for those wondering how to become a digital nomad!) nomads tend to stay in one place for around three to six months, and usually no more than nine. This means you may live in four different cities or more in just one year.
With that movement comes many exciting cultural immersion and travel opportunities. But there are also additional considerations, like visas and language barriers. You'll likely need to plan in advance to iron out visa requirements before heading off to your next destination. Now, visa requirements for digital nomads look different from country to country and region to region. Some countries have visas designed especially for remote workers. Others are more challenging, so doing your research is important.
One last thing to consider is, of course, internet access. Digital nomads around the globe agree that the biggest challenge to the lifestyle is finding WiFi. Because most digital nomads work full-time for a company, they need access to the internet for several hours every day. Some nomads need a good enough connection to join video calls with coworkers from around the world. So, just like figuring out digital nomad visa requirements, tracking down WiFi points is an important thing to do before you head out.
If you, like many digital nomads, are planning to work from a public space rather than your hotel room or apartment, it's important to understand the etiquette. In most cases, it will be different than office etiquette, and in some countries, the business culture may be different than you're used to. Check out our blogs about coffee shop etiquette and coworking space etiquette for digital nomads to get an idea of what's expected.
View our Digital Nomad Program
What are the top cities for digital nomads?
Digital nomads can make just about any place on earth their temporary home base. Most digital nomads only need an internet connection and a place to rest their heads. That being said, there are a few destinations that attract more digital nomads than others. Read on to learn more about these cities, and what it is that makes them so attractive to travelers and professionals alike. If you want to find out more, you can check out our blog about top destinations for independent travelers.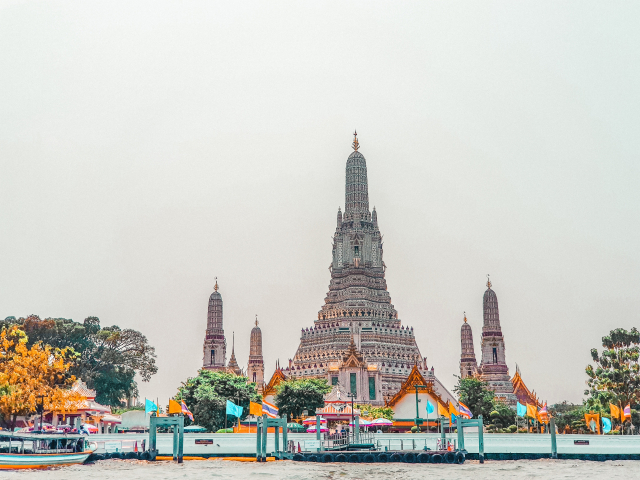 It's not hard to understand why Bangkok is considered Asia's digital nomad hub. First of all, it's one of the most visited cities in the world, so we know it has a lot to offer. Bangkok is truly a blend of East and West, and of ancient culture and hypermodernity. It has incredible street food, lots of accessible high-speed internet, and a fairly low cost of living. On top of that, Thailand is a rapidly growing economy and an excellent place to build your professional network.
Check out our digital nomad programs to learn more about launching a remote career in Thailand.
The English capital is another top destination for digital nomads from around the globe. Of course, it's definitely pricier than Bangkok, but there's something about London that draws people back again and again. It's an exciting city where professionals in every field come to realize their potential and chase their dreams. London has excellent cafes and coworking spaces, great public transportation, and of course some great food.
Tokyo, the capital city of Japan, is one of the largest cities in the world. It has a reputation for being at the forefront of technology and business. No matter which field you work in, there's no denying that spending some time in Tokyo could boost your career. Life in Japan is unlike anywhere else in the world, from the high-speed trains to the delicious food and the gravity-defying skyscrapers. Of course, Japan also has a rich and ancient history, and global nomads get to explore it in a way that most travelers never get to. In fact, the digital nomad experience is one of the best ways to get to know Tokyo. That's because a few weeks just isn't enough time to see everything this incredible city has to offer. If you're thinking about heading to Tokyo, start by reading our blog in which we break down business etiquette in Japan.
The Big Apple. There's just nowhere else like it. For many people, New York has always had a certain glamor. Students and professionals from all over the world dream of working in New York City, whether in finance, theater, fashion, or anything in between. New York is a hub for just about every career you can think of, and it's also highly international. Not only does it play host to thousands of digital nomads every year, but people from around the globe also live in the city full-time. Now, if you're not from the United States, sorting out visas to spend a few months in New York can be tricky. It may also be challenging to find a place to live and settle in. If you're not sure where to start, check out this video about our award-winning programs in NYC.
In addition to London, Barcelona is one of Europe's hotspots for digital nomads. Maybe it's the beautiful beaches and the lovely weather. Maybe it's the incredible art and world-renowned architecture. Or maybe it's a distinct culture and colorful vibe! Whatever it is, Barcelona has become a highly international city that is teeming with remote workers and interns. It's reasonably affordable, and English is widely spoken, making it accessible even for those who aren't fluent in Spanish. That being said, it may also be the perfect destination to spend some time learning! Check out our blog to learn more about the many reasons to live in Barcelona.
Who can become a digital nomad?
Now that you've learned all about the digital nomad lifestyle, you might be wondering whether you're a good candidate for the next generation of global remote workers. Many students ask "what are the best fields of study for digital nomads?" Now, keep in mind that most professionals today, no matter their background, can make the transition to the digital nomad life. Your university degree or field of study definitely doesn't dictate whether you can work and travel at some point in your career. However, if you really want to streamline your path, keep in mind that this lifestyle relies heavily on the ability to work with nothing more than a laptop. Fields of study for digital nomads, therefore, tend to be technology-heavy, and may even allow you to develop valuable technical skills like coding, animation, or editing.
After considering the field of study, another common question is "what are the best careers for digital nomads?" That's a tough question to answer because the vast majority of careers can be pursued by digital nomads. In fact, there are endless career opportunities, and it's more important to consider what you're interested in and qualified for. Just like fields of study for digital nomads, the best careers truly depend on your interests, goals, and skillset.
That being said, these are the most common and popular fields among digital nomads today:
Computer science
If you guessed that a software engineer was the most popular career for digital nomads, you were right! If you know how to code, there are endless professional opportunities out there for you that don't require you to sit in an office. Of course, this type of job usually requires a very high skill level and quite a bit of relevant study, whether in university or at a Bootcamp. That being said, if you specialize in things like app and website development, data analysis, or cyber security, making the transition to the global nomad life will likely be seamless.
Are you an IT or computer science professional thinking about becoming a digital nomad? Check out this page where we break down both the career field and the various types of international opportunities available to you.
Graphic design
Graphic design is another popular career choice for digital nomads. Like software engineering, doing graphic design full-time from the road requires a certain level of skill and creativity. But for those who want to pursue a creative career while exploring the world, graphic design may be the perfect mix. Designers should be comfortable using a wide range of programs including Photoshop, Illustrator, and Procreate. Getting started in the graphic design world can be challenging, and it's important to either have a full-time role or a stable set of freelance clients before heading out. A great way to build up a career is with an internship through one of our graphic design programs, designed to prepare you for the digital nomad life.
Marketing
If you work in the marketing field or are studying marketing, you probably know how competitive the career is. Marketing is one of the most popular university majors, but of course, it's also an essential service for businesses of all shapes and sizes around the world. Unlike graphic design and engineering, remote marketing jobs don't always require extensive prior experience or technical skills. Above all, your communication skills are what really matter. The marketing world offers roles like sales, blogging, content writing, and public relations, to name just a few. The good news is that there are lots of remote marketing jobs and internships out there, and you can cater to your interests and passions. For example, these types of roles exist in both the fashion world and the nonprofit sector, and everything in between.
Translations
For a digital nomad, it's always a good idea to speak multiple languages. Navigating different parts of the world is just easier if you can communicate in the local tongue! But being multilingual is incredibly useful for other reasons as well. Working as a translator is a great career option for digital nomads. If you're fluent in at least one other language, you can make money transcribing articles and blogs, editing academic materials or books, or even translating virtual events in real-time. If you think you need to brush up on your language skills before you hit the road, consider applying for our remote translations internships.
Social media management
If you're a master of social media, you can take it on the road! Managing social media accounts and publication calendars and creating content is an excellent way to make a living as a digital nomad. Some nomads make their way as bloggers and influencers. This is a very attractive career path of course but can be a challenging one to ramp up if you don't already have an online presence. Others take on fully remote roles on social media and marketing teams for different companies around the world. And of course, there's always freelance and contract-based work!
So there you have it – you know all about how to be a digital nomad. If you're looking for more information, we also break down some of the top qualities that make digital nomads successful on our blog – Do you have what it takes to be a digital nomad?
Internships for digital nomads
Learning how to be a digital nomad can be a lot to take in. If you aren't quite ready to take on the job hunt and visa struggle alone, consider checking out our Digital Nomad Internship Program. This program is specially designed to allow students and young professionals to experience the nomadic lifestyle with expert support.
Interns who are accepted to our program are matched with a top-tier organization in their chosen career field. The positions are flexible, and interns can choose between 10 and 40 hours of remote internship work each week. Of course, in addition to the personalized career placement, one of the top benefits of this program is the support of our local, on-the-ground teams.
Digital Nomad interns head off to one of our specially chosen destinations, including Bangkok and Colombia, and are met by our team there. In addition to visa assistance, accommodation, and even airport pickup, the program also includes career success coaching and a vast network of global alumni.