If you're considering becoming a digital nomad, or already lead a nomadic lifestyle, you might be wondering which global cities are best suited to you. Of course, as remote and flexible work become increasingly popular, many cities and countries are working to market themselves to these WiFi-loving global citizens. For most remote workers, home is anywhere there's a strong internet connection, delicious local food, and an endless list of places to explore. However, some cities are definitely more popular than others among this community of traveling workers.
Regardless of whether you have extensive travel experience, there are key elements to a great destination for remote workers. Consider how easy it is to travel around your chosen city or country. Is there affordable and accessible public transportation? Is it bike-friendly? Also, consider the presence of an international community, or at least a network of remote workers. Remember, even if you're working, it's important to have a support group! Other things to keep in mind are liveability, proximity of activities you enjoy, and of course, internet access.
These cities, which span North and South America, Europe, Asia, and Australia, are the top hotspots for digital nomads today. No matter your geographic preference, there's a city for you! As a digital nomad, you may even get a chance to visit them all.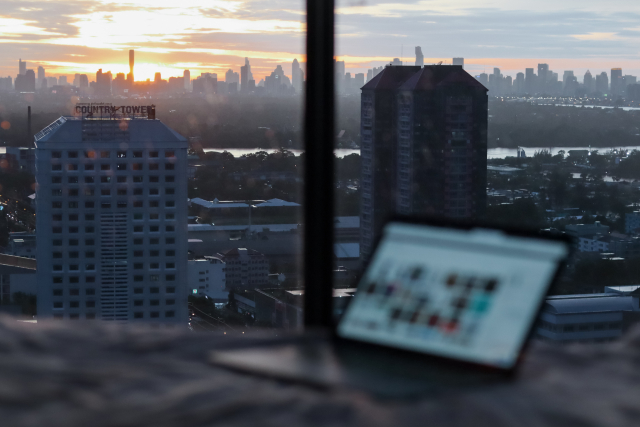 Medellin
Medellin, Colombia, is known as the "city of eternal spring." As the name implies, it has beautiful, mild weather year-round, making it perfect for those who love exploring. The city, which is the second-largest in the country, sits in a lush, green valley. It's home to many of the region's largest corporations as well as most vibrant startups. It's not hard to see why Medellin is a top destination if you're a digital nomad – you'll be surrounded by entrepreneurs, remote workers, and a thriving global community.
Of course, the friendly welcome digital nomads receive in Medellin is one of the top reasons it's such a hot destination. The city's locals are known for their hospitality, and will make you feel right at home. Medellin is also renowned for its vibrant culture, delicious food, and nightlife. If you want to meet amazing people, eat incredible food, learn Spanish, and explore Latin America, Medellin should be top of your list.
Madrid
The Spanish capital of Madrid is one of Europe's best cities for a digital nomad. It has everything you could ever want – world-famous museums, award-winning restaurants, and exciting nightlife. Madrid is also home to a wide range of both international corporations and startups and is an incredibly international destination. If you're interested in learning Spanish, or in traveling Europe, Madrid is the perfect home base!
New York
When it comes to the Big Apple, there's almost no explanation needed as to why it's a hotspot. New York is one of the most-visited destinations in the world, and its reputation is unparalleled. No matter the industry you work in or where you're from, New York has something for you. The city is incredibly diverse, and has cuisine, art, fashion, and music from every corner of the globe. Cultures from all around the world meet in New York City, making it one of the most vibrant, unique places in the world.
Bangkok
Anyone who has been to Bangkok will tell you there's no other place like it in the world. Bangkok is truly alive at every hour of the day. Its colorful streets are filled with modern skyscrapers, ancient temples, palaces, and some of the best street food in the world. The city truly has something for everyone, and is home to one of the largest communities of expats in the world, due to its foreigner-friendly rules. Thailand is an incredible destination for anyone with flexibility to work remotely. It has beautiful beaches, immensely rich history, and of course, world-famous food. To top it all off, Bangkok is incredibly affordable. This makes it the ideal destination for budget-conscious remote workers.
Hong Kong
Hong Kong is a truly unique city. It's a blend of ancient civilizations and the hyper-modern. The Hong Kong skyline is famous around the world, as is its status as a financial and business hub. If you're looking for a busy, exciting city, Hong Kong is a great destination. It's also incredibly international, making it a great place to meet other young travelers.
Melbourne
Melbourne, Australia is considered to be one of the most liveable cities in the world. It has everything a digital nomad could want. It's known for its coffee shop scene, top-tier universities, and art. Not to mention, Australia's beaches, wildlife, and cities are just a short trip away!
Dreaming of becoming a digital nomad?
Apply now for our Digital Nomad Program to intern remotely and live like a local in up to 3 amazing destinations!
Photos:
1 Freedom to travel in Athens, by Kristin Wilson on Unsplash.
2 Untitled, by Dave Weatherall on Unsplash
3 Times Square by Luca Bravo on Unsplash